Supplements
Simone Super Energy Drink
Books and Publications
Join Our Mailing List
Affiliate Program
Shirts
Customer Sign In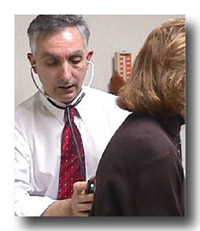 Welcome! Charles B. Simone, M.D. is an Internist (Cleveland Clinic 1975-77), Medical Oncologist (National Cancer Institute 1977-82), Tumor Immunologist (NCI 1977-82), and Radiation Oncologist (University of Pennsylvania 1982-85). He wrote Cancer and Nutrition (1981, third revision 2005), The Truth About Breast Health - Breast Cancer (2002), The Truth About Prostate Health - Prostate Cancer (2005), How To Save Yourself From A Terrorist Attack (2001), helped organize the Office of Alternative Medicine, NIH (1992), helped write the Dietary Supplement, Health and Education Act of 1994, helped win landmark cases against the FDA by showing they violated the First and Fifth Amendment rights of Americans, helped introduce the Health Freedom Protection Act of 2005 (H.R. 4282), was bestowed the first Bulwark of Liberty Award in 2001 by the American Preventive Association and the James Lind Scientific Achievement Award in 2004, and continues bench research with the NCI showing that proteomic patterns can diagnose specific cancers possibly at earlier stages than we are currently able to do (Lancet Feb 2002, JNCI Nov 2002).
He is a consultant for heads of state of the US and other countries, celebrities, and advises many governments regarding health care. He testifies for the Senate and House on matters concerning health, cancer, disease prevention, children's health programs, FDA reform, and alternative medicine. He appears on 60 MINUTES, Prime Time Live, Fox News Channel, and others.



ONCCOR
Quantity in Basket: None
Code: NDC_62403_0001_2
Price: $39.95


Combines 29 nutrients in the correct ratio and form (crystalline, not oil based): antioxidants, B's, and other important nutrients. Antioxidants neutralize harmful free radicals that damage cells*.
Highest amount of beta-carotene, 30 mg.
Highest doses of all other antioxidants: lutein, lycopene, vitamins E and C, copper, selenium (organic non-toxic form), zinc, bioflavonoids, L-cysteine.
High amount of the important Vitamin D3 (cholecalciferol)
Has no iron - iron causes free radicals. Iron deficiency anemia should be treated by your doctor using therapeutic doses.
Has no calcium - fiber food binds calcium and renders it useless.

Because these nutrients are so important for our health, one way to get them is to eat certain fruits and vegetables daily in large quantities. But so many of us are not consistent about eating these foods (unprocessed) or are unable to do so. Therefore, Protector ONCCOR® represents an easy and safe way to ensure added protection.

Protector ONCCOR® is recommended as a food supplement for all, especially dieters, smokers, drinkers, elderly, teenagers, those who are who are taxed physically, with allergies, and athletes. Protector ONCCOR® does not interfere with chemotherapy or medications. In fact, cancer patients have nutrient deficiencies and should take a supplement like Protector ONCCOR®.

Protector ONCCOR®: one tab twice/day with food.

---

Protector ONCCOR® is the most medically advanced antioxidant formula with the highest amount of beta-carotene (30 mg), with two other cartenoids, lutein and lycopene, high doses of all other Protector Antioxidants: Vitamins E and C, selenium, copper, zinc, bioflavinoids, and L-cysteine. Other multiples do not even include these, or do so in very low amounts because they are too expensive, especially in the solid form, which is more stable and efficacious than the oil-gel form. Protector ONCCOR® has high amounts of all B's, key minerals - 29 nutrients in all.

Beta-carotene is an important protective Antioxidant. Leading government agencies recommend 5-6 mg of carotene a day. Other studies recommend 20-50 mg/day. But US Dept of Agriculture Food Intake Survey shows that Americans consume only 1.5 mg of carotene a day.

FREE RADICALS

Antioxidants neutralize harmful chemicals called free radicals that occur in the body constantly and arise from fatty foods, smoking, alcohol, environmental pollutants, toxins, carcinogens, iron, smog, and radiation. Free Radicals attack vital cell structures.*

---

* This statement has not been evaluated by the Food and Drug Administration. This product is not intended to diagnose, treat, cure, or prevent any disease.

---

Protector ONCCOR® Comparison Table



                 ONCCOR  CENTRUM  ONE A DAY    OCUVITE  STRESS TAB
NUTRIENT         ======  =======  =========    =======  ==========

CAROTENOIDS
  Beta-Carotene mg  30      1.5        1.5          0           0
  LUTEIN mcg        20
  LYCOPENE mcg      20
Vitamin A IU      5000     5000       5000       5000    
Vitamin D3 IU      500      400        400        400               
VITAMIN E IU       400                  30         30          30
VITAMIN C mg       350       90         60         60         600
Folic Acid mcg     400      400        400                    400
Vitamin B1 mg       10     2.25        1.5                     15
Vitamin B2 mg       10      2.6        1.7                     10
Niacinamide mg      40       20         20                    100
Vitamin B6 mg       10        3          2                      5
Vitamin B12 mcg     18        9          6                     12
Biotin mcg         150       45         30                     45
Pantothenic acid    20       10         10                     20
SELENIUM mcg       200       25                    40     
COPPER  mg           3        2                     2     
ZINC  mg            15       15                    40     
Iodine mcg         150      150                           
Potassium mg        30       57                            
Chromium mcg       125       25                           
Manganese mg       2.5        5                         
Molybdenum mg       50       25                            
Inositol mg         10                                
PABA  mg            10                                
BIOFLAVINOIDS       10                                
Choline mg          10                               
L-CYSTEINE mg       20                                
L-Arginine mg        5                               
Iron  mg                     27         18         
Calcium mg                  162                                
Phosphorous mg              125                                
Magnesium mg                100                                
Vitamin K mcg                25         50 

    To duplicate Protector ONCCOR's formula would cost between $65 - $80 and 
require opening 10 - 15 bottles.  TWO TABLETS OF PROTECTOR ONCCOR CONTAIN THE 
VALUES IN THE FIRST COLUMN.