Supplements
Simone Super Energy Drink
Books and Publications
Join Our Mailing List
Affiliate Program
Shirts
Customer Sign In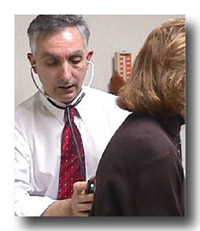 Welcome! Charles B. Simone, M.D. is an Internist (Cleveland Clinic 1975-77), Medical Oncologist (National Cancer Institute 1977-82), Tumor Immunologist (NCI 1977-82), and Radiation Oncologist (University of Pennsylvania 1982-85). He wrote Cancer and Nutrition (1981, third revision 2005), The Truth About Breast Health - Breast Cancer (2002), The Truth About Prostate Health - Prostate Cancer (2005), How To Save Yourself From A Terrorist Attack (2001), helped organize the Office of Alternative Medicine, NIH (1992), helped write the Dietary Supplement, Health and Education Act of 1994, helped win landmark cases against the FDA by showing they violated the First and Fifth Amendment rights of Americans, helped introduce the Health Freedom Protection Act of 2005 (H.R. 4282), was bestowed the first Bulwark of Liberty Award in 2001 by the American Preventive Association and the James Lind Scientific Achievement Award in 2004, and continues bench research with the NCI showing that proteomic patterns can diagnose specific cancers possibly at earlier stages than we are currently able to do (Lancet Feb 2002, JNCI Nov 2002).
He is a consultant for heads of state of the US and other countries, celebrities, and advises many governments regarding health care. He testifies for the Senate and House on matters concerning health, cancer, disease prevention, children's health programs, FDA reform, and alternative medicine. He appears on 60 MINUTES, Prime Time Live, Fox News Channel, and others.



The Truth About Breast Health and Breast Cancer, Prescription for Healing
Quantity in Basket: None
Code: ISBN0971457409
Price: $24.95


"A mandatory resource for life"
Lorraine Schwartz, Attorney and Survivor

Over 80% of American women have painful lumpy breasts that increase cancer risk. One in eight American women develop breast cancer (A). Those with breast cancer today live no longer than those who had it in 1920 (B). Treatments produce the same length of life, but when you modify your lifestyle, you may live longer (C).

Dr. Simone reviews how breast health can be yours. Since genetics causes only 7% of cases, you have control. Dr. Simone, a world renowned cancer specialist, is brave enough to share with you the truth about breast cancer without emotion or influence from the medical establishment, pharmaceutical industry, national organizations, special interest groups or government agencies. Be your own advocate. Don't leave it to others. You can virtually control the destiny of your health.

By following his easy Ten Point Plan, you can reduce the risk for breast cancer and stop breast pain, or, if you have breast cancer, you can help to extend your life. The choice is yours.